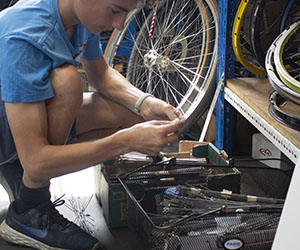 ALTERNATIVE PROVISION
Our Alternative Provision is available to students who need an alternative to the mainstream school curriculum and want to pursue an interest in bikes and mechanics. We have years of experience providing a positive learning environment where students learn really practical skills that could be the step to a career in bikes (after all, it works for us!). Student's time at Bike Project Surrey can be a time to reset away from stressful school or home environments and get stuck in to working on some bikes. While we do that together we chat, talk about the world and get to know each other and the different help that we all need.
LEARNING
Everyone in the community has the chance to learn about bikes and how to look after them in an environment that is inclusive, welcoming and happy so that people feel valued and that they belong.
BIKES FOR SALE
We recycle, teaching as we go, and sell the bikes donated and saved from the dump to ride again on or off the the road (or track), and so that we get a little bit of income (we have no regular funding stream). Check us out for an affordable bike to get you around and help keep you healthy and happy.  We have all flavours from mountain to hybrid to road, single speed and fixed to 30 gears, child to adult.  We even have scooters unicycles and tandems, and a rickshaw!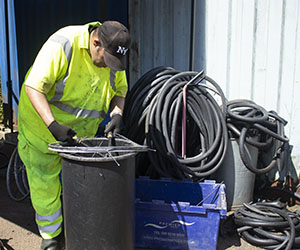 VOLUNTEERING
We've lots of fabulous volunteers who support and help what we do – supporting students and learners, working in the shop and the workshop. Volunteers give their time to Bike Project Surrey and become part of the team and community around the project.  You don't have to be an experienced mechanic at all, just keen to lean.  We have all sorts and all ages – doctors, lawyers, electricians, teachers, musicians, draughtsmen, soldiers, working and retired, you name it!  And you don't just have to fix bikes, we have volunteers who help us with sales, photography, IT, building and construction, and all the other things that makes the Project tick!
BIKE SERVICING
Affordable bike servicing for the community so that bikes stay on the road, and hopefully fewer car journeys made, helping to make us all healthier and happier.  Everything's done/checked by fully qualified certified mechanics, and we proudly boast that we're the best value in town!
PLACEMENTS
Adults who aren't in work, education or employment come to Bike Project Surrey to get work experience and learn to service and maintain bikes – whether it's keeping their own bike on the road or getting ready for work in the bike industry. We offer a place that is inclusive and supportive so that people feel that they belong and have fun. It's great to look at a bike that you fixed and got working again, and better still when you see someone out riding a bike you have fixed.